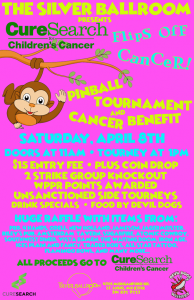 blog post courtesy of Ian Taylor
Please join us for our knockout tournament at The Silver Ballroom (St. Louis, MO) on Saturday, Aprill 8th  2017 as we raise money for CureSearch, a wonderful organization dedicated to funding targeted and innovative research to end children's cancer. For over 25 years CureSearch has provided assistance for those undergoing diagnosis and treatment. They support those at the forefront of children's cancer research through their Acceleration Initiative and Young Investigator Program, among many other approaches. For more information on how CureSearch provides such necessary assistance please click on their link below and consider being a sponsor today.
The format for our tournament will be 2-Strike Group Knockout. The limited number of strikes reflects an anticipated high turnout plus a fun and easy way for novice players to experience an IFPA sanctioned tournament without having to commit to too strenuous an amount of time. There will be unsanctioned side tournaments and a raffle featuring items from both national and local sponsors ranging from breweries, award winning restaurants, bars, tattoo parlors and more. Entry will be $15 and all proceeds from entries and the raffle will go directly to CureSearch. Separate donations are both gratefully welcomed and encouraged. For more information on the tournament please follow the links to our Facebook event page or the IFPA calendar below or contact Doc or Ian at thesilverballroom@gmail.com.
Facebook Event Page:
https://www.facebook.com/events/387209694987991/
IFPA Calendar Event Page:
https://www.ifpapinball.com/tournaments/view.php?t=18200#
Comments Closed