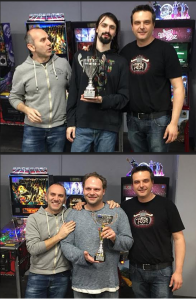 blog post courtesy of Alessio Crisantemi
Assago, Milan – Levente Tregova won the Italian Pinball Open (IPO), the Italian pinball championship: a new event in a new location dedicated to sports pinball, organized by IFPA Italia into the showroom of Double Pinball, the new Italian company exclusively dedicated to pinball, which became exclusive supplier of Jersey Jack pinballs for Italy and of spare parts for all kind of games.

The tournament took place on the weekend of March, 25-26, in the Assago office of the company, next to Milan, and as well as declare the new Italian champion of sports pinball, also represented the only Italian stage of the European circuit ECS.

The Swiss Levente Tregova won the competition, he prevailed over 64 players in the competition, coming from all over the country and several nations, including Switzerland, Poland, Hungary and others. Second place for the Italian Roberto Pedroni, who becomes in this way the 2017 Champion of Italy, by virtue of his position of first Italian player in the final IPO ranking. So, the player from Milan ends a very high level March, having triumphed just few days ago at the Spring Pinball Tournament at ENADA, in Rimini. Confirming to be in great shape, which is an excellent confidence boost for the upcoming World Championships in Denmark, scheduled in Copenhagen, on June, 2-4, 2017, where Pedroni will represent Italy along with the reigning World Champion, Daniele Acciari, in the Italian National Tecnoplay Team.
About Acciari: the player has not gone beyond the fifth place at Ipo in Assago, precisely losing the match against Pedroni, which seemed unstoppable and only the Swiss Tregova won against him. Third place for Davide Della Ianna and fourth place for Gabriele Tedeschi from Rome.

Also a second side tournament took place during the two days of sports pinball in Milan, won by Manuel Cereda from Milan, second place for the Venetian Paolo Luise and Roberto Pedroni again, ending here at the third place.