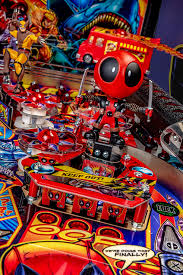 The IFPA is excited to announce that Stern has added Deadpool Pro and Premium models to the rewards program. A reminder that the 2017 rewards earned by players expire December 31st, 2018.
The following games are now available under the program: Batman 66 Premium, Deadpool Pro, Deadpool Premium, Iron Maiden Pro, Iron Maiden Premium, Ghostbusters Pro, Ghostbusters Premium, Guardians of the Galaxy Pro, Guardians of the Galaxy Premium, Metallica Pro, Star Trek Vault Pro, Star Trek Vault Premium, Star Wars Pro, Star Wars Premium.
Detailed rules for the $tern Rewards Program, including an updated list of qualifiers, and updated list of rewards available can be found HERE.