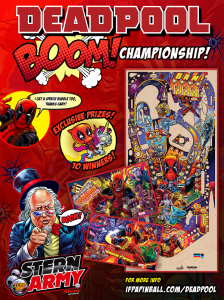 Stern Pinball, Wade Wilson and the International Flipper Pinball Association are teaming up to sponsor a Stern Army High-Score Tournament on Deadpool Pro, Premium and LE pinball machines.
The tournament is open to players beginning on April 15, 2019 and end on July 31, 2019.
Players can enter by participating in any IFPA-sanctioned Stern Army events that include Deadpool in the tournament:
Authorized IFPA Stern Army members will organize sanctioned tournament events at the approved Stern Army location.
The IFPA will establish the tournament settings for the Deadpool Pro, Premium and LE games used in sanctioned tournament events. These settings will be 3 ball play on Factory settings or "harder".
Authorized IFPA members will submit high scores from each sanctioned tournament event to the IFPA.
Authorized IFPA members will email photos of their high scores to ifpapinball@gmail.com. All photos must include a picture of the player's face, their score on the LCD. Please also include the name, city and country of the location of the event.
Only scores recorded during the actual Stern Army sanctioned event are eligible for this tournament. Practice games or games played at Stern Army locations outside of the sanctioned tournament itself will not be eligible.
Players have 72 hours after the IFPA sanctioned event takes place to submit their high score photo into the IFPA.
The player with the highest score will be "Deadpool" until another player tops the score. Other places will be 2) Lil' Deadpool, 3) Wolverine, 4) Colossus and 5) Dazzler, and other Deadpool characters.
The player with the highest score as of midnight Chicago-time on July 31, 2019, will claim the "BOOM" title, playfield, translite and more!
The top nine runner-ups will receive Deadpool related prizes (signed translites and other suprises)
We'll be keeping a live leaderboard along with any information on upcoming events HERE.