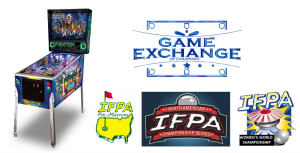 Next week brings the IFPA North American Pinball Championship, IFPA Women's World Pinball Championship and IFPA Pin-Masters to Denver!
As our host, Game Exchange of Colorado is offering a special for the pinball community in conjunction with this event. They are offering $500 off any Monster Bash CE or SE model from Chicago Gaming Company.
Contact Game Exchange HERE for more details.
Monster Bash will be one of the games featured during these championships. Watch the action at https://www.twitch.tv/coloradopinball.