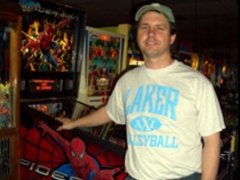 New for 2012, the IFPA will be highlighting the player that has earned the most WPPR points for each month of the year. Our first Player of the Month is [player]Trent Augenstein[/player] from Delaware, OH. Trent earned 33.69 WPPR points in January, finishing 2nd at both the Stern Launch Party in Pittsburgh, and the Fountain Square Pinball Classic in Indianapolis.
The rest of the top 5 for the month of January included [player]Roy Wils[/player] of the Netherlands with 30.16 WPPR points, [player]Derek Fugate[/player] of ths US with 29.70 WPPR points, [player]Mats Holmqvist[/player] of Sweden with 29.44 WPPR points, and [player]Jason Hatch[/player] of the US with 29.22 WPPR points.
Congratulations to Trent and the other top WPPR point earners of the month!