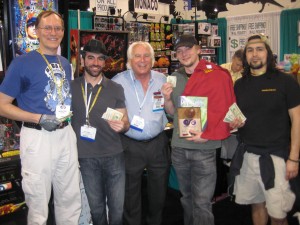 29 people competed in this year's 2012 Amusement Expo tournament out in Las Vegas. Utilizing the Pin-Golf style format on Stern's latest game AC/DC, players played 3 pin-holes in an attempt to get as few strokes as possible. The top 4 players qualified for the finals, with the next highest 4 finishers ranked under #250 qualified for the Novice Finals.
[player]TJ Beyer[/player](ranked 1435th in the world) defeated [player]David Burrier[/player](ranked 1075th in the world), [player]Shelley Paule[/player](ranked 1013th in the world) and [player]Roger Sharpe[/player](ranked 342nd in the world) to win the Novice Finals. Current World Pinball Champion, and world ranked #2 player [player]Cayle George[/player] defeated [player]Zach Sharpe[/player](ranked 9th in the world), [player]Bob Matthews[/player](ranked 30th in the world) and [player]Nick Zendejas[/player](ranked 215th in the world) to take home 1st place in the Masters Division. Full results of the tournament can be found HERE.
The Amusement Expo tournament is one of the nearly 350 annual IFPA endorsed tournaments where players can earn World Pinball Player Rankings points, and qualify for the IFPA World Pinball Championship.