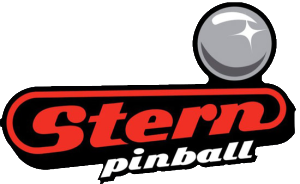 MELROSE PARK, Ill., May 22, 2013 /PRNewswire/ — Stern Pinball, Inc., the world's leading maker of real pinball games and the AAMA 2012 Manufacturer of the Year, is proud to be a premiere sponsor for this year's International Flipper Pinball Association's World Pinball Championship. IFPA10 will bring together the top 64 players representing 19 countries for a marathon competition guaranteed to not only test endurance, but also the ability to master the nuances of a 2.6 ounce silver ball.
As the most prestigious event in competitive pinball, IFPA10 promises to be a grueling battle between man and machine. Several of Stern's extremely challenging games including fan favorites like The Avengers, AC/DC LE, Lord of the Rings, Spiderman and Metallica, will be put to the test by tournament players.
"We are please to sponsor the World Pinball Championship. It is exciting to acknowledge the talented players and range of countries represented at IFPA10," said Gary Stern , Chairman and CEO of Stern Pinball, Inc. "Jointly, we are celebrating the 80th anniversary of the first electric action pinball machine and our team is thrilled to be part of the game's evolution."
2013 is an action-packed year for pinball as the IFPA also announces the organization's inaugural Epstein Cup. The IFPA will host the world's best flipper wizards from Europe and the United States who will compete for what is being referred to as The Ryder Cup of pinball. The Epstein Cup defines a historic weekend in the pin community, solidifying the rebirth of pinball as a quintessential, interactive form of leisure time entertainment.
"The resurgence of pinball in the public consciousness is incredibly gratifying", states Roger Sharpe , Co-Chairman of the IFPA. "It is truly a timeless game that has continued to evolve with technological advancements that someone like Harry Williams could have never imagined. We are seeing new locations and businesses opening their arms to the charms and allure of pinball with the net result that millions of players are taking part in the totally immersive and tactile experience that defines pinball."
In just seven short years, the International Flipper Pinball Association has been able to bring together over 18,000 players now ranked (World Pinball Player Rankings) by competing in over 450 leagues and tournaments taking place across the globe as evidenced by IFPA's 29 different country directors.
The International Flipper Pinball Association was created with the purpose of encouraging, supporting and endorsing competitive pinball throughout the world. The organization provides oversight and assistance to not only establishing pinball leagues but also tournaments and other promotional activities.
Stern Pinball continues the Stern family tradition of producing quality pinball machines for young and old. The company traces its lineage to Philadelphia in the 1930s when Sam Stern entered the business of operating pinball games. Sam Stern subsequently became part owner and president of Williams Manufacturing, a pioneer in the pinball industry, and passed his lifelong enthusiasm for the game and the business of pinball to his son Gary Stern who founded Stern Pinball. Today pinball remains one of America's favorite pastimes.
Event Details:
IFPA10 World Pinball Championship: May 31- June 2, 2013
Held at Freddy's Pinball Paradise in Echzell, Germany.
For more information regarding the IFPA10 or any of its participants, please contact IFPA Vice President, Zach Sharpe (zachary.sharpe@gmail.com 847-877-6344) or IFPA President, Josh Sharpe (ifpapinball@gmail.com 847-601-1609).
Visit the IFPA website for details about the organization and upcoming events.
About Stern Pinball, Inc.
Stern Pinball, Inc., headquartered just outside Chicago, Illinois, is the leading producer of pinball games in the world. Stern's highly talented creative and technical teams design, engineer and manufacture popular arcade-quality pinball games. Recent popular Stern titles include Avengers, X-Men, AC/DC, Tron, Transformers, Avatar, Iron Man, Batman, Spiderman and many more. All of Stern's pinball games are crafted by hand and assembled by Stern's expert team. Both pinball enthusiasts and casual players around the globe enjoy Stern's games. For more information visit www.sternpinball.com.
All trademarks and product names are the property of their respective companies.
Media Contact:
Evie Carter
FortyThree, Inc.
831.401.3175
SternPinball@43pr.com
SOURCE Stern Pinball, Inc.