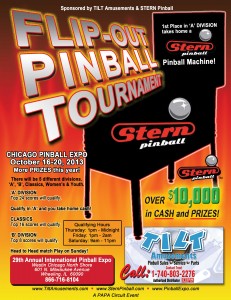 Win a new Stern pinball at Expo Flipout!
More qualifiers this year!
More prizes this year!
PAPA Circuit Event!
Oct 17-20, 2013 at Chicago Pinball Expo
There will be 5 different divisions. "A", "B", Classics, Womens and Youth.
A division
Top 24 scores will qualify.
Qualify in 'A' and you take home cash!
Classics
Top 16 scores will qualify.
B division
Top 8 scores will qualify.
Head to Head match play on Sunday!
1st place in 'A' Division takes home a new Stern pinball machine
Over $10,000 in cash and prizes!
Sponsored by Tilt Amusements, PAPA and Stern Pinball
www.tiltamusements.com
papa.org/circuit/
www.sternpinball.com
www.pinballexpo.net
any questions email: trent@midohio.net
Call Tilt Amusements for all your Stern pinball needs.
740-803-2276
Qualifying Hours
Thursday 1pm – Midnight
Friday 1pm – 2am
Saturday 9am – 11pm