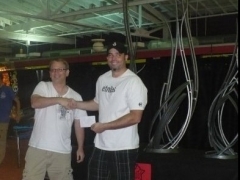 The IFPA is pleased to announce that our Player of the Month for August 2013 is 6-Time "World's Greatest Pinball Player" [player]Keith Elwin[/player] from Carlsbad, CA. Keith earned a total 136.11 WPPR points in August, over 107 of which came from his PAPA 16 2nd place finish in the A division, along with an 11th, 10th and 6th place finishes in the Classics tournaments.
The rest of the top 5 for the month of August included 5-time World Pinball Champion [player]Bowen Kerins[/player] from Salem, MA with 119.78 WPPR points, current World #1 [player]Zach Sharpe[/player] from Chicago, IL with 107.75 WPPR points, [player]Donavan Stepp[/player] from Lakewood, CO with 101.00 WPPR points, and 2-time World Pinball Champion [player]Daniele Celestino Acciari[/player] from Italy with 81.39 WPPR points.
Congratulations to Keith and the other top WPPR point earners of the month!