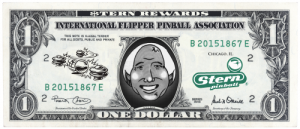 The IFPA is excited to announce that the following players have been now qualified for the $tern Rewards Program based on their December 2013 IFPA endorsed tournament performance! These players have until August 15th, 2014 to exercise their reward option.
TOP 250 RANKED PLAYERS
Any eligible players that finished in the top 250 for the end of the year World Pinball Player Rankings.
BIGGEST MOVER AWARD – [player]David Spasic[/player]
David moved up 11,306 spots by finishing in 14th and 16th place in the Happy Dog Annual Pinball Tournament Main and Classics Divisions respectively. David also won the Side Tournament at Flip Off Hunger – Cleveland, along with a 12th place finish Main Tournament. This netted Layne 18.95 WPPR points and moved him up to a rank of 1675th in the world.
BIGGEST MOVER AWARD – [player]Ashley Shaw[/player]
Ashley moved up 9170 spots mainly due to her 20th place finish at the Flip Off Hunger – Seattle tournament. She also finished in 13th place at the Full Tilt Ballard Weekly tournament, 5th place at the John Johns Tuesday Flip Off, 7th place at Olaf's Monthly, and 10th and 22nd place at the two Add-a-Ball Wednesday Flip Off tournaments she played in. In total, Nathan earned 1.88 WPPR points from these performances, which has moved her up to a rank of 6036th in the world.
BIGGEST MOVER AWARD – [player]Troy Kellogg[/player]
Troy moved up 6936 spots by earning 1.95 WPPR points from his 52nd place finish in the Seattle Pinball League. This moved Troy into now being the 5650th ranked player in the world.
Detailed rules for the $tern Rewards Program, including an updated list of qualifiers, and updated list of rewards available can be found HERE.