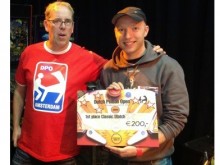 The IFPA is pleased to announce that our Player of the Month for August 2014 is [player]Roy Wils[/player] from the Netherlands. Roy earned a total of 205.76 WPPR points in August. This included victories at the Pre-PAPA Kickback Tournament (Main and Classics) and Pre-PAPA Slovak Club Main Tournament. Roy also had a top 4 finish in both the Main and Classics tournaments at the Pre-PAPA New Great Valley Lanes Tournament, and a 10th place finish in the PAPA 17 World Pinball Championships A division, along with a 7th place finish in the Classics III division. Roy is currently the 5th ranked player for the Pennsylvania SCS, and is also currently qualified for Ohio(12th).
The rest of the top 5 for the month of August included [player]Cayle George[/player] from Seattle, WA with 139.64 WPPR points, [player]Steven Bowden[/player] from Franklin Township, NJ with 136.28 WPPR points, [player]Cryss Stephens[/player] from Pittsburgh, PA with 134.03 WPPR points, and [player]Chris Basler[/player] from Illinois with 119.79 WPPR points.
Congratulations to Roy and the other top WPPR point earners of the month!