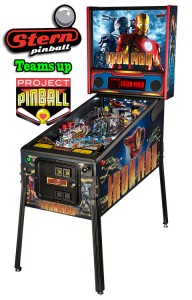 World's Leading Maker of Arcade-Quality Pinball Machines and Project Pinball Charity Group Team Up To Share the Love of Pinball with Advocate Children's Hospital Patients
OAK LAWN, IL – April 21, 2015 – Today, Stern Pinball, Inc., the world's oldest and largest producer of arcade-quality pinball machines, announced its plans to team up with Project Pinball Charity Group to dedicate a brand new Stern Iron Man pinball machine at Advocate Children's Hospital in Oak Lawn, IL. The dedication will take place on Tuesday, April 28, 2015 in honor of Zach Dacy, a Chicagoan youth who beat cancer after a long battle.
"There are thousands of children undergoing intensive medical treatment in children's hospitals across the country," said Daniel Spolar, founder and Senior Director of Project Pinball. "We want to help ease their pain and speed their recovery by giving them a reason to get out of bed, to socialize, and to have to fun by playing an iconic American pastime… pinball!"
Stern Pinball has joined Project Pinball, a charity dedicated to providing recreational relief to patients and their families, as well as the physicians and nurses who care for them, for the Advocate Children's Hospital pinball machine dedication. The Project Pinball Iron Man pinball machine is signed by Stern Pinball employees including Iron Man game designer, John Borg, and will be placed in the hospital for patients to enjoy.
"We are thankful to be teaming up with Project Pinball and Advocate Children's Hospital to share our love for pinball with patients such as Zach who have faced these challenges," said Gary Stern, Chairman and CEO of Stern Pinball. "Our goal is to provide patients with a fun, entertaining getaway and put a smile on their faces."
The Dacy family and supporters will be joined by Project Pinball's Daniel Spolar, Founder and Senior Director, and Tess Brennan, Development Coordinator. Stern Pinball staff will also be present for the April 28th hospital dedication, including Gary Stern, Chairman and CEO; Jody Dankberg, Director of Marketing and Licensing; and John Borg, Iron Man game designer.
"We're incredibly grateful to both Project Pinball and Stern Pinball for donating this machine to our hospital," said Lisa Boland, Child Life Manager of Advocate Children's Hospital. "This will be an entertaining diversion for our pediatric patients and help them concentrate on something other than tests, treatments and procedures."
For additional details regarding Advocate Children's Hospital Oak Lawn, please contact Julie Nakis, Public Affairs and Marketing Coordinator at julie.nakis@advocatehealth.com.
About Stern Pinball, Inc.
Stern Pinball, Inc., headquartered just outside Chicago, Illinois, is the oldest and largest producer of arcade-quality pinball games in the world. Stern's highly talented creative and technical teams design, engineer and manufacture a full line of popular pinball games, merchandise and accessories. Recent Stern titles include WWE Wrestlemania, The Walking Dead, Mustang, Star Trek, Metallica, The Avengers, X-Men, AC/DC, Tron, Transformers, Avatar, Iron Man, Batman, Spiderman and many more! All of Stern's pinball games are crafted by hand and assembled by Stern's expert team. A broad range of players enjoy Stern's games from professional pinball players that compete in high-stakes international competitions around the globe to novice players who are discovering the allure of the silver ball for the first time. To join the fun and learn more, please visit www.sternpinball.com.
About Project Pinball Charity Group. Inc.
Project Pinball Charity Group. Inc. is dedicated to providing recreational relief to its small patients and their families, as well as the physicians and nurses who care for them. A pinball machine is a powerful instrument that offers therapeutic benefits that fit perfectly within the dynamics of a hospital environment. It helps keep patients active and mobile while also providing amusement. Project Pinball continues to see how helpful a pinball machine can be in a hospital setting. Headquartered in Bonita Springs, Florida, Project Pinball Charity, a nonprofit 501(c)3, has been placing and maintaining pinball machines nationwide into Children's Hospitals since 2011. To learn more about Project Pinball Charity, visitprojectpinball.org or email projectpinballcharity@gmail.com.