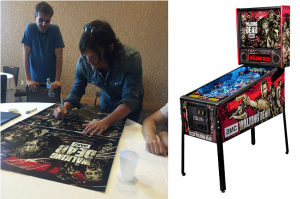 Wizard Mode is a rippin' pinball documentary about the competitive pinball community and one of the world's best players. As a way to raise money to finish the film, we have the following pinball items available:
UNLOCK WIZARD MODE – TUTORIAL VIDEO
Sick of seeing your balls roll in the drain? Contribute and receive a pinball tutorial video by resident pinball champion, Robert Gagno. Download this lesson along tips, tricks and never-seen-before bonus footage from Wizard Mode. Support the film as you train to become the next champ!
WALKING DEAD TRANSLITE SIGNED BY NORMAN REEDUS
Signed by all-around badass survivalist NORMAN REEDUS, the WALKING DEAD pinball machine backglass art can be yours as some inspiration for when the zombies attack…
THE VANCOUVER PINBALL TOUR
Spend the day touring Vancouver with the Directors (Jeff & Nathan) and Robert! We will take you to all the best pinball spots around the city to play our favourite games, and end the day by taking you to Robert's favourite burger joint.
THE LAS VEGAS PINBALL TOUR
Visit the Pinball Hall of Fame in Las Vegas with the Directors (Jeff & Nathan) and Robert! We will pinball at the Hall of Fame all day and then spend the night getting wild on the town.
(Travel up to $1,000 and accommodation included)
WALKING DEAD PRO PINBALL MACHINE
Get a brand new Walking Dead Pinball Pro Machine provided by Stern Pinball. For those who want what the pros use! One of these pinball machines comes with a signed translite by Walking Dead star, Norman Reedus – but you have to be quick to claim this limited edition pinball machine!
Buy these items here and support an amazing film that highlights the passion and community of pinball players.
Please check out the details: http://igg.me/at/wizardmodefilm
Feel free to contact us at wizardmodefilm@gmail.com if you have any questions.