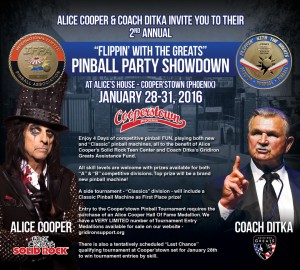 Final details are now in place for the Cooper'stown Pinball Party Showdown, with the addition of a 1970 Gottlieb Flip-A-Card pinball (plus Alice 1970 "Easy Action" CD) as a prize choice in the "Coop's Classics" Pinball Tournament.
Alice has been busy autographing Rock & Roll memorabilia for skill and raffle prizes, while his "Solid Rock" Charity Facebook page reports – Alice is planning to come!
To give their respective fans a chance to get in on the Cooper'stown Pinball Showdown fun, Alice and Coach Ditka have made a limited number of Tournament entries available Online – ( bit.ly/1Zxp6Ec ).
This FWTG Tournament features 2 player skill "Tiers" – "A" & "B" Divisions – with awards and prizes for ALL player Skill levels.
Top prize in the Main Tournament will be a NEW Pinball Machine!
For more information, call Vicki @ 612-999-FWTG (3984)
A quick reminder that there are TWO components of the Flippin' With the Greats campaign:
1) The FANTASY LEAGUE – A "League" where IFPA members can support their favorite NFL team (and win cool stuff) by simply buying an IFPA medallion Personalized with the Player's name, IFPA #, and the NFL team they support.  Great prizes will be distributed to League Participants throughout the season. Click HERE for more details.
2) The TOURNAMENT SERIES – A Nationwide series of tournaments to be scheduled throughout the NFL season culminating in the SUPER BOWL Pinball Party at Alice Cooperstown in Phoenix, Az. Click HERE for more details.
The Gridiron Greats Assistance Fund (GGAF) is a non-stock, non-profit 501(c)3 organization, providing financial grants and "pro bono" medical assistance to retired NFL players in dire need.  The organization focuses on the humanitarian side of post-football related issues, which include coordination of social services to retired players who are in need due to a variety of reasons including inadequate disability and/or pensions.
Alice Cooper's Solid Rock is a non-profit 501(c)3 organization, also. Solid Rock's primary mission is to make an everlasting difference in the lives of teens by helping them meet their spiritual, economical, physical, and social need.  Alice Cooper's Rock Teen Center offers a safe, engaging environment during non-school hours –a time when they are most vulnerable to drugs, violence, and gangs. Maintaining a teen's worst enemy is too much time on their hands Solid Rock provides the music, arts, vocational programs and fellowship that challenge teens to discover their passion through music, dance, self-expression, and creativity. Learn more at www.alicecoopersolidrock.com.
Support and Follow our 2015 Flippin' With the Greats Pinball Campaign and "Like" Gridiron Support on Facebook at https://www.facebook.com/gridironsupport.org