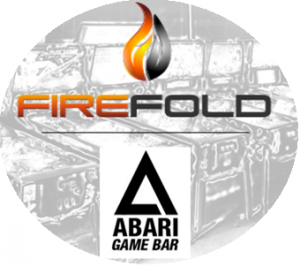 blog post courtesy of Kevin Shanus
FireFold Inc. is generously sponsoring the Summer/Fall 2019 Abari Pinball Players League, a monthly pinball league open to all skill levels and genders (21+ of age).
A technology solutions company, FireFold Inc. serves customers around the world with their online presence and locally with storefronts in Concord, NC. At their retail locations, repair services are offered for desktop computers, laptops, and cell phones with order pickup available on networking and audio/video equipment. The team at FireFold also specializes in audio, video and IT consulting services along with installation services for businesses.
Abari Game Bar is Charlotte, NC's first arcade and full bar with over 20 Pinball Machines and 30 Arcade Games. Abari has hosted the IFPA's (International Flipper Pinball Association) North Carolina State Championship the past two years and will host again in January 2020. Abari also hosts the only women's pinball league in the Carolinas with their Belles & Chimes Charlotte Chapter.
The Abari Pinball Players League meets once a month for pinball matchplay.  Through their sponsorship, FireFold, Inc, is providing participants free entry into these monthly league nights and is committing cash prizes to the top finishers. These benefits are available during the 6 upcoming league nights held July through December, with specific dates to be announced. Finals will be held in December. We are excited FireFold is a local business supporting our pinball community. For more information on upcoming events, please like the Abari Game Bar Facebook page or join the Abari Pinball Players Facebook group..
FireFold Inc
Website – http://firefoldinc.com/
Social Media – https://www.facebook.com/FireFold
Abari Game Bar
Website – http://abarigamebar.com/
Social Media – https://www.facebook.com/abarigamebar