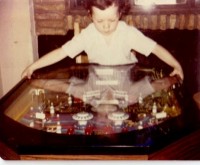 The IFPA is pleased to announce that our Player of the Month for January 2014 is once again [player]Andrei Massenkoff[/player] from San Francsico, CA. This makes two months in a row for Andrei! Andrei earned a total 112.64 WPPR points in January, sweeping the Pacific Pinball Open Main and Side tournaments, as well as finishing in 3rd and 7th place respectively in the 2014 INDISC Main and Classics tournaments.
The rest of the top 5 for the month of January included [player]Keith Elwin[/player] from Carlsbad, CA with 81.64 WPPR points, [player]Al Thomka[/player] from Pittsburgh, PA with 70.62 WPPR points, [player]Kevin Birrell[/player] from Seattle, WA with 61.32 WPPR points, and [player]Robert Gagno[/player] from Burnaby, BC with 60.75 WPPR points.
Congratulations to Andrei and the other top WPPR point earners of the month!